FATHER'S DAY MENU
Aug 28
Don't miss out! Treat your Dad for Brunch/Lunch this SUNDAY
Book a table for lunch 12-3pm
Mother's Day @ Goanna
May 8
Book a table for Lunch with us this Mother's Day Sunday May the 14th
Breakfast from 8:30 -12pm ( No Bookings Available )
Lunch 12 – 3pm ( Bookings Available )
Lunch will be Set Menu with a variety of options and wine pairing recommendations
Please browse the menu below.
We are always happy to accommodate dietary requirements. Please call ahead to inform us as lunch with be a set menu for the day.
Regular Kids menu Available for lunch
EASTER HOLIDAY HOURS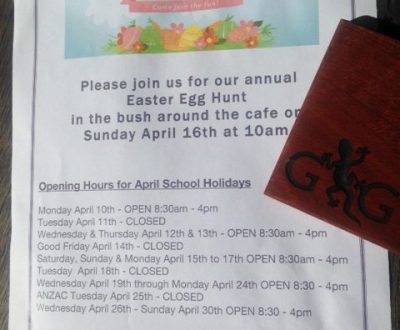 Apr 8
Please join us for our annual Easter Egg Hunt
in the bush around the cafe on Sunday April 16th at 10am.
Opening Hours for April School Holidays
Monday April 10th – OPEN 8:30am – 4pm
Tuesday April 11th – CLOSED
Wednesday & Thursday April 12th & 13th – OPEN 8:30am – 4pm
Good Friday April 14th – CLOSED
Saturday, Sunday & Monday April 15th to 17th OPEN 8:30am – 4pm
Tuesday April 18th – CLOSED
Wednesday April 19th through Monday April 24th OPEN 8:30 – 4pm
ANZAC Tuesday April 25th – CLOSED
Wednesday April 26th – Sunday April 30th OPEN 8:30 – 4pm
Come celebrate our NEW Liquor Licence with a glass of Frizzante Sparkling
Nov 26
Yes!! The rumors are true, we have a new Liquor Licence and are serving up delicious Bloody Mary's, Local Wine and Beer.
Come and enjoy the afternoon with us, sit back , relax with a cold beverage in our beautiful bush setting
Book for this coming Sunday November 27th and receive a complimentary glass of Frizzante sparkling to celebrate our licence.
ANZAC MONDAY – OPENING HOURS 8:30-12PM
Apr 22
ANZAC WEEKEND BREAKFAST SPECIAL 2016
Apr 22
Easter Weekend Hours
Mar 16
Easter Egg Hunt!
Mar 16
Burger Pop Up January 30th
Jan 14
FATHER'S DAY BURGER "POP UP"
Sep 2
Don't miss out on our Gourmet Burger "Pop Up" in honour of Father's Day.  Bring your dad along for lunch 12-3pm on Sunday and check it out!
Annual Easter Egg Hunt!
Apr 1
Join us this Sunday for our annual Easter Egg hunt… from 10.30am
Christmas Hours
Dec 18
Are Christmas opening hours are as follows…
Closed – Christmas, Boxing Day & New Years Day
Open 7 Days 8:30am from Sunday 27th Dec – 1 Feb 2015
Gourmet Escape – WIN TICKETS!
Nov 12
We are excited about being part of the Gourmet Escape again this year! We have 5 double passes to give away. To enter simply post an image of your 'Goanna Experience ' on our facebook page or #goannagourmetcomp on instagram. Entries close Wed 19th Nov 2014. Good luck!
Latest Exhibition
Oct 10
Sarmarie Designs is exhibiting her latest body of functional artwork. Pop into the Gallery to check it out this stunning collection and try out the two persons swing! Exhibition running until 9th November 2014
Fathers Day…
Sep 4
Say thanks to Dad this Fathers day with our Fathers Day brekkie special or delicious roast lunch!
We are not taking brekkie bookings so just pop along. Feel free to book for lunch. Bookings from 12noon – 2.30pm
We look forward to seeing you then!
Goanna is getting a facelift…
Aug 28
We will be carrying out some renovations on Wednesday 3rd September and will be closed for the day. Re-opening 9am Thursday 4th Sept. See you then!
Food Pornographer Review
Aug 13
Check out the review from Cynthia Chew aka The Food Pornographer of her recent visit to Goanna for breakie. www.thefoodpornographer.com
New Exhibition
Aug 2
We have just hung our latest exhibition by the super talented, local painter Ellen Trott
Ellen's stunning collection of paintings will be on display until Sunday 31st August 2014
New Exhibition
Jun 26
We are proud to be currently exhibiting the work of local photographer Joe Jordanoff.
Come in for a coffee and checkout  Joes exhibition titled 'Inside the Moment' on show until 27th July 2014
Closed Wed 25th June
Jun 21
We wish Aaron all the best with his long table lunch cheffing challenge…
latest Exhibition
May 23
Visit our latest exhibition, 'Bluelover' by Dunsborough based Kaitlyn Rae.
Exhibition runs 21st May  – 22nd June 2014
Kaitlyns 'Bluelover' exhibition illustrates her distinct impressionistic style, passion for bold colour and expresses the contrast between her new life beside the ocean and her Canadian upbringing.
Mothers Day Specials…
May 7
We are making Mothers Day Super Special with our breaky special of truffled scrambled eggs and smoked salmon, served on house baked brioche with rocket.
We also have a delicious $50 three course set menu for lunch.
Click here to check out our latest newsletter and find out more about our Mothers Day Specials…
CLOSED FROM 1PM SUNDAY 4TH MAY
May 4
Sorry! We will be closed for a private function on Sunday 4th May 2014 from 1pm.
We are still running our Breakfast Service until 12 noon
SHED SALE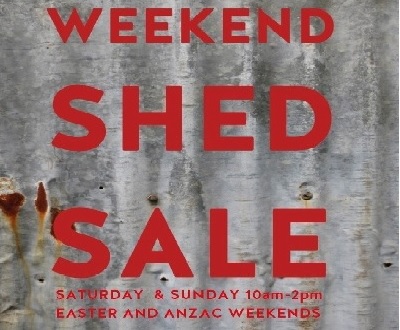 Apr 20
Huge reductions can be found at the Goanna Stock Clearance Shed Sale.
Held at Goanna, 10am-2pm Sat & Sun Easter and ANZAC weekends.
OPEN 7 DAYS FOR THE SCHOOL HOLIDAYS
Apr 12
Latest Exhibition – Meleah Farrell Photography
Mar 27
We are currently exhibiting the unique work of abstract photographer Meleah Farrell.
Exhibition runs from 19th- 16th April 2014
Meleah has an ability to capture everyday subject matter in a way that it has never been seen before. Her collection of images have been printed using traditional and experimental techniques, including printing onto aluminium for use outdoors and a selection of unique encaustic wax prints.
Goanna Amateur Photography Exhibition Entries
Mar 7
Entries are now open for our amateur photography exhibition!
At Goanna we love filling our cafe walls with wonderful local art. We are currently on the hunt for the next BIG names in photography from the region. This Easter holidays we are opening our cafe walls to a limited number of amateur photographers to exhibit and sell their work.
If you have an image/images that you would like to enter email info@goannagallery.com.au for more info.
Exhibition runs 17th April – 18th May 2014
ENTRIES CLOSE WEDNESDAY 2nd APRIL 2014
Goanna gourmet saddles up for the polo
Jan 30
Tim and Duncan are providing gourmet catering at the Polo Lounge at the Busselton Foreshore Polo on Sunday 2nd February.  It's the first time they have been involved in this event and they're looking forward to seeing the fashion, the horses and serving up some delicious food too. 2013 was the inaugural year and the event is expected to draw a great crowd again. General admission is free. Polo Lounge tickets are $99 and include Goanna Gourmet Catering's delicious canapes and the 'Big Red' pork bun, which was initially created for the 2012 Margaret River Gourmet Escape. Attendees can expect two games of traditional polo plus a half-time game of "postie polo" played on motorbikes. The polo is held at Barnard Park near the Busselton Jetty.  More Info: http://www.busseltonpolo.com.au
Open 7 days a week in January
Jan 30
We are open 7 days a week through January  …Except for New Year's Day, when we're treating ourselves to a sleep-in and a day at the beach!
Goanna Cafe will be open from 8.30am to 4.00pm Saturday and Sunday, and 9.00am to 4.00pm Monday to Friday. Breakfast served until midday, lunch from 12pm to 3pm (all day brekkie @ weekends) and organic coffee and house-made cakes all day.
In February we will go back to regular trading days, open Wednesday to Friday.
Looking forward to seeing you soon!
Cheerio,
The Goanna Crew
GOANNA'S GREAT GOURMET ESCAPE
Jan 30
We're thrilled to report that we had a brilliant weekend at the Gourmet Escape, enjoying a great response to our beer braised beef cheeks from locals and 'Perthies' alike. Fab weather and getting to taste a variety of dishes from other restaurants topped off a fantastic weekend.
Much experimentation and testing went into our dish. It was a beer braised beef cheek with truffle mustard, remoulade and pickled onion, all in a milk bun. We love using local produce, so we used Butterfield Beef (from the great southern region), beer from Eagle Bay Brewery and buns from Augusta Bakery.
At the 2012 Gourmet Escape we presented a pulled pork bun which is now the #1 selling item on our cafe menu. Expect to see our beer braised beef cheeks on the café menu soon!!
GOANNA PREPARES FOR GOURMET ESCAPE
Jan 30
Much experimentation and testing has gone into our 2013 Gourmet Escape dish. It's a beer braised ox cheek in a bun with truffle mustard, remoulade and pickled onion, and we think it's even more delicious than last year's pork bun!
We love using local produce, so we're using Butterfield Beef (from the great southern region), beer from Eagle Bay Brewery and buns from Augusta Bakery.
Last year the 2012 Gourmet Escape was a huge success for Goanna Gourmet. We sold out of pulled pork buns by 1pm Sunday, and they're now the #1 selling item on our cafe menu. The Gourmet Escape marked the launch of Goanna Gourmet, which is now a highly successful catering business. This summer we are creating delicious food for a number of weddings, parties, picnics and
school fetes.
NEW ENCLOSED VERANDA
Jan 30
We have enclosed the front veranda to keep you warmer in winter! We have installed clear cafe blinds so you can still enjoy the beautiful bush scenery. The wood fire is cranking every weekend too.